Dipl. Wi-Ing. Gerrit Bottemöller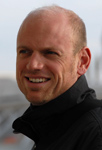 CAREER GOALS

My goal is to provide enterprises high performance consulting in strategy and HR development processes to create sustainable performance!
A position which needs the skills in communication, counseling, organization, human leadership, technology consulting, analysis and problem solving.



PERSONAL SKILLS AND ATTRIBUTES

DEVELOPING PEOPLE
Often do I rate my own success in the development of my team members whom I am responsible for. The detection of the individual strength of each individual team member and its promotion is an important priority. The role as a project manager and the successful development of the employees are the intrinsic motivation for me to lead a team always by example. Within in an open team structure complex project will be developed successfully.
COMMUNICATION SKILLS
Through my collaboration with European, American and Australian colleagues, I have learned through targeted communication how to manage cultural differences in international project teams. 60% to 80% of the success of a project depend on the communication between the members, lead by the project manager.
I am an experienced speaker, who released his presentations in front of large groups and has steered groups from 5 to 70 person.
PROBLEM SOLVING
Through a high degree of flexibility, I have build up a strong problem-solving nature, which always led me to sus-tained success in personnel issues, organizational issues and operational processes. Problems represent a challenge for me. As a very organized and diligent person, it is in my nature to simplify highly complex processes ("Simplify your work").
HUMAN RESSOURCE DEVELOPMENT
One of the main factors contributing to the success of an enterprise is its human capital. This capital has to be developed in a continuous process. I experienced that it is very helpful to involve employees in the development process. Simultaneously this can involve the ideas and objectives in the overall goals. By this approach the intrinsic motivation of employees and the productivity can be increased.
TEAM BUILDING
My strengths lie in coordinative and managing tasks and I am always very interested in new challenges. Teamwork is a high priority, but I also look for self-directed tasks. The challenge to lead a team lies in establishing and maintaining an effective team communication culture to build up sustainable success.
PROFESSIONAL EXPERIENCE
Bottemoeller Engineering (Consultancy) 2010 – today
Project Management Automotive:

Project Manager eLCV "Terryman"(Winner ÖKOGLOBE 2010), Düsseldorf, Germany (2011)
Responsible for technical analysis of the 1st eLCV Prototype (light weight construction, surface, photovoltaic roof, composite construction, design, electric components integration)
Responsible for loan program (Bundesministerium für Umwelt, Naturschutz und Reaktorsicherheit) loan budget: 1,4 Mio € (total Investment 2,8Mio €)
Business development:
Advancement eLCV Concept to "Urban Delivery Truck - UDT".

UDT Concept & Business Strategy (design, chassis concept, technical design, customer profiling, work packages incl. development time, financial structure, enterprise & organization strategy)
(2011 – 2012)
Assembling project eLCV PV Roof (2011)
Bottemoeller Human Resource Coaching (HR-Coaching) 2007 – today
Successful cooperation agreement Prof. Peter Pawlowsky, Technical University Chemnitz, Germany – Institute for Management & Human Development
Developed high performance coaching concept and instrument "Excellence thru Sailing."
Co-Writer "High Performance Management". (published 2008)
Co-Writer "The HIPE Formula!" (published 2012)

Successful conducted HR leadership workshop for groups from 12 to 200 person.
Speakers & Coaching reference:
Volkswagen AG, Volkswagen Dealers, FSAG (2007 – 2012)
Volkswagen AUTOUNI, Wolfsburg, Germany (2007, 2011)
SunDisk AG, Valencia, Spain (2009)
Metro LG, Cologne, Germany (2011)
Cooperation CSA Agency – Celebrity Speakers Agency (2011)
Televison production (2010):
ZDF – ABENTEUER WISSEN "Das Geheimnis des Erfolgs"
Bottemoeller Marketing Development (Consultancy) 2007 - 2010
Successful development and rolled-out marketing strategy "Formula 1 meets Formula 1 on water" for Red Bull Racing/Victory Challenge, Valencia, Spain (2008) (together with RTL)
Developed marketing strategy to raise funding of 4 Mio € for "Victory Challenge Racing" - Swedish Amer-ica's Cup Team (2008)
Successful development and rolled-out of high performance team platform strategy "Dedicated to Deliver" for "Victory Challenge Racing"
Bottemoeller Project Management Civil Engineering (Consultancy) 2010 – today
Construction management memorial land rehabilitation (2010)
Finance & controlling management sub-constructors (2010)
Konzepthouse.de – IT Software Development 2007 – today
Developed IT Project management software tool "LogBook"
Successful rolled-out LogBook Prototype 2007 (America's Cup Team)
Successful released Update Version 2007 (America's Cup Team)
Latest Software PHP-Prototype Release "LogBook" 2010
United Internet Team Germany – 1st German America's Cup Team 2005 – 2007
Project & Process Engineer, Pro-Sailor
Successful released project management IT software tool to increase productivity in maintenance and manufacturing processes
Team leader maintenance department hydraulics
Team leader boat preparation team
Responsibility for interface management sailing team and design team
Responsibility for coordination, communication and optimization of onshore and offshore human technical processing

Responsible for technical competitor analysis

Participation as A-Team member in over 90 Louis Vuitton Cup (America's Cup) Races

EDUCATION


Technical University Carolo-Wilhemina Braunschweig, Germany Oct. 1997 – Dec. 2004
Graduated as " Diplom Wirtschaftsingenieur Maschinenbau" (equivalent Master Degree,
Degree Diss: 1,7)
Faculty "Maschinenbau" representative 1999/2000 &Human soft skill competence
Sailing License July. 1993 – Sept. 1997
Geschwister-Scholl Secondary School, Mannheim, Germany (Abitur) &
Boarding School "Landesschule zur Pforte" NRW, Germany Oct. 1991 – Dec. 1996
Student body representative 1995 & 1996
Exchange student, High School of Blackpool & Sidmouth England
PROFESSIONAL COURSE-RELATED SPORT ACTIVITIES
AMERICA'S CUP SAILING 2005 - 2009
1ST GERMAN AMERICA'S CUP "United Internet Team Germany" –
Pro Sailor & Project Engineer
Swedish America's Cup Team "Victory Challenge" (2008 – 2009)
EUROPEAN SAILING TEAM – RESULTS 1998 - 2010
1ST Place – Team World Champion Ship Farr 40 (2010)
2nd Place – Spanish Copa del Rey (2007)
1st Place – German & European Champion Ship IMS Offshore Rac.(2004)
1st Place – German & French Champion Ship IMS Offshore Racing (2002)
2nd Place – World Cup Swan (2002)
Several national Offshore Racing Titels
ADDITIONAL INFORMATION
LANGUAGES
German (native speaker), English (business fluent)
IT PROFICIENCY
Advanced in Windows: Word, Excel, Outlook; PowerPoint, Access, Adobe Professional, Network Administration and Management
Advanced in Apple: Leopard O/S, Microsoft Office for Mac, Mac Mail, Entourage (Office)
EXTRA CURRICULAR
Soft Skill Licenses (HR)
Sailing & Navigation Licenses
Fitness Sport Licenses (Instructor and Coaching) – All Sport Activities